Nancy R. Bartlit is a World War II historian, lecturer, author, and co-owner of Pajarito Press LLC. Bartlit earned a BA in History from Smith College in Massachusetts, then traveled to Sendai, Japan, thirteen years after WWII ended in 1945, to teach English to high school students, UNESCO students, and scientists at a research institute. Years later, she returned to Japan while enrolled in a program on Japanese industry and technology, which included tours to eleven research laboratories. She earned an MA in International Communications from the University of New Mexico.
She arrived in Los Alamos in 1962 when her husband John came to the Los Alamos National Laboratory as a research engineer in cryogenics and, later, fusion energy. The two of them led efforts to preserve New Mexico's azure skies—which were so important to scientists during the Manhattan Project—and were honored as Los Alamos Living Treasures.
Nancy was elected to several terms on the Los Alamos County Council, was its Chairman, and, later, was elected President of the Los Alamos Historical Society. The Society was founded in 1968 to preserve Los Alamos history through supporting a lecture series, publishing unique books, running a museum, and building community archives.
coauthored with UNM Distinguished Professor Everett M. Rogers, was published in 2005. Since then she has given talks on New Mexico's role in ending World War II which include experiences of the U.S. Army Bataan Death March survivors, the U.S. Marine Navajo Code Talkers, the civilian males of Japanese descent held in the Santa Fe Internment Camp, and the scientists and miliary personnel assigned to Los Alamos during the Manhattan Project. She is registered with the New Mexico Humanities Council and the Historical Society of New Mexico Speakers' Bureau.
Bartlit first told Los Alamos history to a symposium held on Tinian Island in 2010. Why was New Mexico selected to be so important to the vital research of atomic weapons? What was life like as a Boys Ranch School in a forest of Ponderosa pine trees expanded into a secret research laboratory where explosive testing in the canyons shook windows and walls to break the silence of the wilderness?
For a decade Bartlit collaborated with the Atomic Heritage Foundation and officials from New Mexico; Oak Ridge, Tennessee; Hanford, Washington, and the National Park Service to promote a Manhattan Project National Historical Park. Los Alamos now shares Park Headquarters with the other two communities. One can witness a virtual viewing of the five historic sites left from war atomic weapons research in Los Alamos in the Laboratory's Bradbury Science Museum.
A Look Back...
A Warm and Enthusiastic Welcome as Nancy Spoke to the San Juan County
Historical Society on October 11, 2017, in Aztec, New Mexico...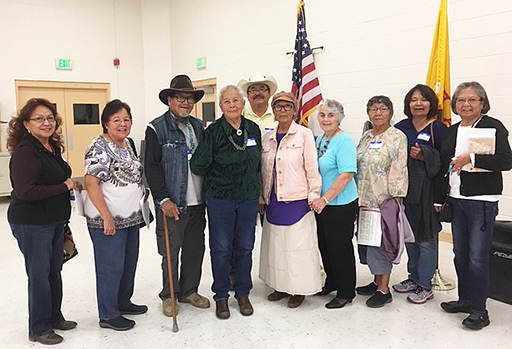 From 1942 until the end of
World War II the Navajo code was never broken by the enemy. Between 350–420 young Navajo U.S. Marines, trained in a unique language, fought from Guadalcanal through Okinawa, a territory of Japan. Their military commander claimed that they shortened the war by a year. She'll describe how the code was initiated by the original 29 Navajo U.S. Marine radiomen who had deep knowledge of Navajo culture and environment, how the number of code talkers expanded to serve in six Marine divisions forcing increased vocabulary as new technology was introduced on the battlefield, and how the "code-within-a-code" protected its secrecy. With precise accuracy the code was put to use in the Pacific theater allowing the allied forces to island hop and get closer to target Japan.
KOAT TV's Royale Da Interviews Nancy about Santa Fe's Internment Camp...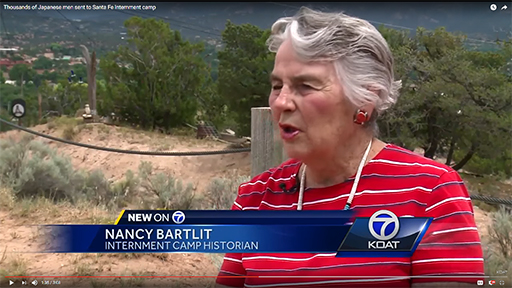 Watch the interview with Nancy
on
KOAT TV, July 24, 2017.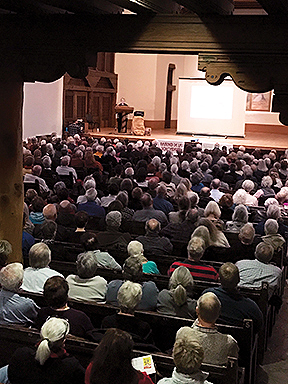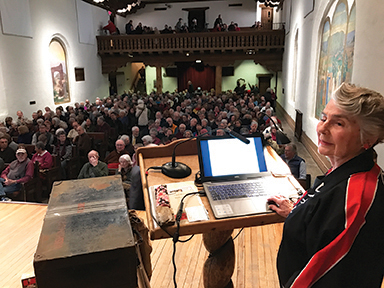 A Packed House!
Nancy Delivers the Powerful, Seldom-Heard but Not Forgotten History of Santa Fe's Internment Camp...

Photos:
Nancy presenting to a packed house,
"The Santa Fe Internment Camp in the Shadow of Los Alamos, 1942-1946,"
in the St. Francis Auditorium, New Mexico Art Museum on Tuesday, February 28, 2017.
F
or those interested in the Santa Fe Internment Camp history, you would find Robert Mott's interview with Nancy, "South of Atomic City, a second secret community during WWII," as it appeared in the
Santa Fe New Mexican, February 27, 2017.
The New Mexican—Posted: Tuesday, July 14, 2015, 11:00 pm | Updated: 9:14 am, Tuesday, July 28, 2015.
I
n the article,
New Mexico, Japan Bound by Technology and Tragedy
, Nancy is interviewed by Margaret Wright, who gives you the opportunity to read Nancy's comments and gather the history that was built in the Pacific Theater during WWII. Here are two links where you can read about and also listen to Nancy's position on the atomic bombs:
Read Margaret Wright's article and see the short video:
Trinity: 70 Years Later...
Read Nancy's Perspective:
Nancy's View—Were Two Bombs Necessary?
Nancy Bartlit

Armed with a vision and the passion to tell the stories we never knew.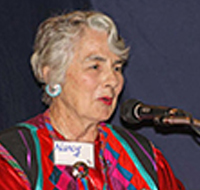 N
ancy R. Bartlit is an author, oral historian, amateur photographer, and a Chautauqua lecturer listed with the N.M. Humanities Council and the Historical Society of New Mexico. A resident of Los Alamos for 52 years, she formerly was elected to the city/county council, serving as its Chairman (the "Mayor").
Bartlit is known as an environmental, health, and historic preservation activist. When she was President of the Los Alamos Historical Society, she signed the papers for the Society to own the home in which J. Robert Oppenheimer lived during WWII. In May 2011, Los Alamos dedicated bronze statues of Dr. Oppenheimer and General Leslie Groves, a project Nancy championed for seven years. She campaigned for Los Alamos, New Mexico, Oak Ridge, Tennessee, and Hanford, Washington, to become the Manhattan Project National Historical Park. The Manhattan Project National Historical Park Act was passed as a part of the National Defense Authorization Act of 2015, and then signed into law by president Obama the middle of December 2014.
Nancy graduated from Smith College, Northampton, MA, as a history major, and afterwards taught in Sendai, Japan, for two years, visiting all four main islands of Japan. She revisited Japan five times, one which was under the University of New Mexico Study of Japanese Business and Technology. Following completion of that program, she studied under Everett M. Rogers, a distinguished professor who headed the UNM Journalism and Communication Department and under whom she received her Master's Degree.
Rogers and Bartlit interviewed numerous New Mexico veterans to write
Silent Voices of World War II: When Sons of the Land of Enchantment Met Sons of the Land of the Rising Sun
(Sunstone Press, Santa Fe: 2005). The book is approved by the NM Board of Education as a supplemental historic text. The pair interviewed U.S. Army survivors of the Bataan Death March, Navajo Code Talker Marine privates, Manhattan Project civilian and military personnel, and a survivor of the Santa Fe Internment Camp for Males of Japanese descent.
(continued...)